Fighting to Eliminate Poverty
Coastal Community Action Program changes people's lives, embodies the spirit of hope, improves communities, and makes America a better place to live. We care about the entire community, and we are dedicated to helping people help themselves and each other.
Contact Us
Our Programs and Services
Coastal Community Action Program works with low income individuals and families to remove the barriers that prevent them from achieving economic stability in Grays Harbor and Pacific Counties.
 erap is scheduled to open september 6th, 2022
The online scheduler for LIHEAP/LIHWAP,

Currently CLOSED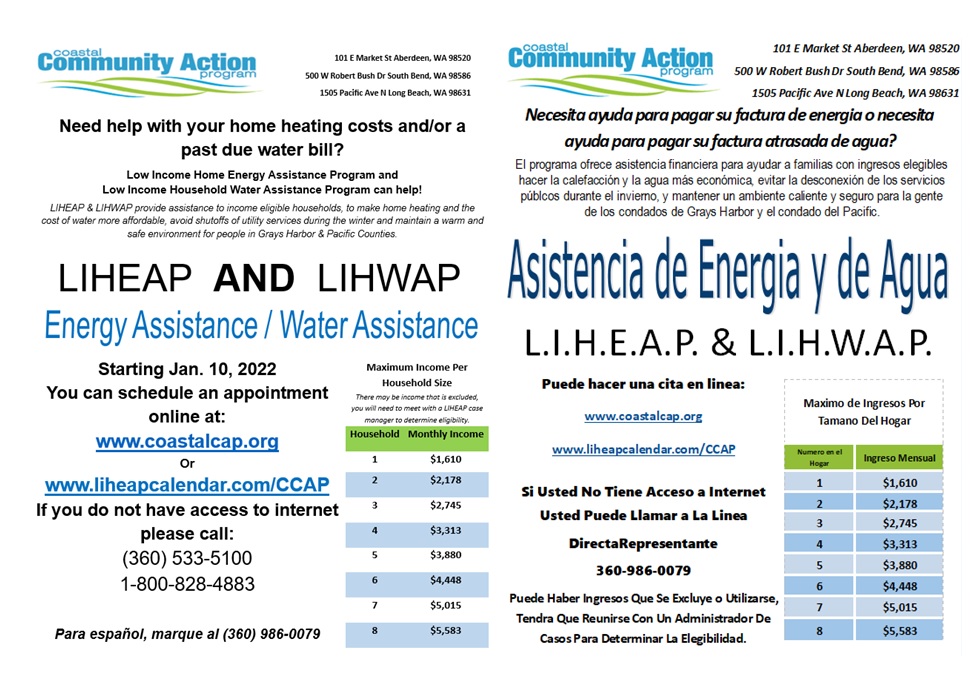 Coastal Community Action Program Request for Bids Exterior Paint, Caulking and Pressure Washing of Building Envelope
Coastal Community Action Program (CCAP) is requesting bids to caulk, paint, and pressure wash exterior of building envelope located at: 101 E Market Street, Aberdeen, WA.
Information on this project, including plans and additional requirements, may be obtained by contacting CCAP by phone or email at:   Phone: 360.533.5100       Email: scottr@coastalcap.org
A bidder's packet is available upon (written) request, and a walk through will take place on: Friday, May 13, 2022 – (Please call, or email in advance to schedule a time between 7:00 a.m. and 3:00 p.m.)
Bids must be received by close of business 5:00 p.m.(PST) on Friday May 20, 2022
Grays Harbor Talk's "
Out of the Ashes of the Armory Fire, Coastal Community Action Program Rebuilds Stronger Than Ever"
Sign Up for Our Newsletter
We are in the process of developing a newsletter platform. Please check back soon for updates and registration info!